Please
click here
if you are unable to view the mailer.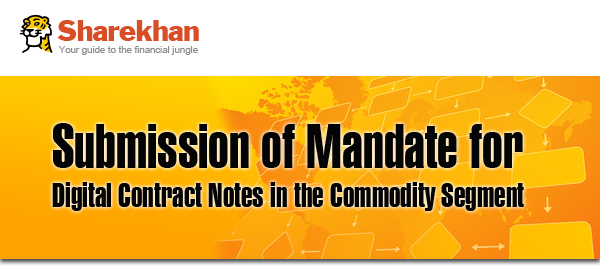 Dear Customer,

Greetings of the day and thank you for your continued patronage of our products and services!

We write with reference to the new guidelines of Multi Commodity Exchange of India Ltd. (MCX) and National Commodity & Derivatives Exchange Ltd. (NCDEX) on contract note confirmations provided to clients trading in the Commodity Segment.

As per the new guidelines, you are requested to submit a hard copy of the Digital Contract Mandate letter (click here) duly filled-up in your own hand writing and signed along with a self attested copy of this e-mail to your nearest branch /share shop on or before July 15, 2013.

Further as per the norms please note that the submitted documents would be valid for the current financial year only and new ones would have to be resubmitted before the 25th of March every year.

Feel free to visit any of our branches /share shop to remove a printout of the mandate letter and this email in case you do not have access to a printer.

Please call our customer service department on 1800-22-7500 /39707500 (prefix local dial code) in case of clarifications or alternatively visit your nearest branch /share shop.

We look forward to your kind cooperation in completing the digital contact note mandate formalities at the earliest.

Regards,
Team Sharekhan
Registered Office: Sharekhan Limited, 10th Floor, Beta Building, Lodha iThink Techno Campus, Off. JVLR, Opp. Kanjurmarg Railway Station, Kanjurmarg (East), Mumbai - 400 042, Maharashtra. Tel: 022 - 61150000. Sharekhan Ltd.: SEBI Regn. Nos. BSE Cash-INB011073351; F&O-INF011073351; NSE - INB/INF231073330; CD - INE231073330; MCX Stock Exchange: CD - INE261073330; United Stock Exchange: CD - INE271073350; DP: NSDL-IN-DP-NSDL-233-2003; CDSL-IN-DP-CDSL-271-2004; PMS INP000000662; Mutual Fund: ARN 20669. Commodity trading through Sharekhan Commodities Pvt. Ltd.: MCX-10080; (MCX/TCM/CORP/0425); NCDEX -00132; (NCDEX/TCM/CORP/0142); National Spot Exchange Ltd :12790; for any complaints email at [email protected] ; For any DP related compliants email at [email protected] / [email protected]; Sharekhan Financial Services Pvt. Ltd: Corporate agents for ICICI Prudential Life Insurance Company Ltd. with corporate agency License no: ICI 8419765 Disclaimer: Client should read the Risk Disclosure Document issued by SEBI & relevant exchanges and Do's & Don'ts by NCDEX, and the T & C on www.sharekhan.com before investing.