ABOUT DEMAT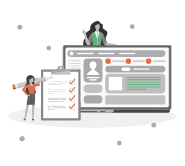 A Demat account ensures a simple, seamless, paperless, and genuine trading and investing. However, to maintain the genuineness of the process, you need to provide certain documents for opening a demat account.
Things to Check before opening a Demat account
With the advent of digitization and setting up of National Securities Depository Limited in 1996, even share trading became online, and shares were now traded in an electronic or dematerialized format rather than in paper format. As per the Securities and Exchange Board of India, opening a Demat account is necessary if you want to trade in shares. A demat account allows investors to buy, store and sell shares in their dematerialized format. Just like a bank account is for your money, demat account is for your stocks and other equity-related investments.
The demat account makes investing in shares a safe, streamlined, cost-effective and time-saving experience. As the share certificates get converted to electronic format, it increases their accessibility and ease of handling. However, investing in shares and other equity investments can be a risky business. Demat Accounts make it easier and safe, but it also requires investors to follow the rules and guidelines. A comprehensive checklist of all the necessary requirements to check before opening a demat account can help the investors have a hassle-free experience. So, let's have a look at the following checklist.
1.DOCUMENTS– Akin to opening a bank account, opening a demat account requires a specific set of documents. Although certain documents may vary based on the type of account to be opened, following are some of the basic documents needed to open a demat account –
a.PAN card – It is compulsory for an investor to have a PAN card for opening a demat account.
b.Duly filled demat account opening form with signatures – An account opening form asks for the personal details and requires signatures of all the authorized holders of the demat account.
c.Passport size photographs of all the account holders for the account opening form.
d.Proof of Identity – Applicants have to submit either Aadhar card, Voter ID, Passport or Driving License. Other government authorized identity proofs are also acceptable.
e.Proof of Address – Either Passport, Voter ID, Driving License, Ration Card, Registered Lease/ Sale agreement of residence, Utility Bills (Electricity, Gas or Landline) or Bank account statement/passbook.
f.Proof of Income – It is imperative to submit an investor's proof of income or net worth if they want to invest in the commodities market or the derivatives. The admissible documents are Form 16, IT acknowledgement, bank account statement for 6 months or a certificate provided by a verified CA that confirms the net worth.
g.Bank Account details – A cancelled cheque that bears the investor's name, account number, IFSC Code, MICR Code, and bank and branch details.
h.It is compulsory for NRI investors to appoint another person as a Power of Attorney to transact on their behalf.
2.VERIFICATION OF BROKER– A broker is your bridge to the share trading world. Hence it is imperative to check the credibility of your broker before opening your demat account with him. All brokers have to be registered with the Securities and Exchange Board of India (SEBI), which makes it easier to report and penalize fraudulent behavior.
3.DEPOSITORY PARTICIPANT- Depository Participants (DP) are authorized links between the Depositories and investors who are registered with the SEBI as facilitators of trade in equity investments and can trade securities through the Central depositories. Always inquire if your broker is a DP as it streamlines the demat transactions. As a DP, your broker is authorized to trade securities through the Central depositories, which means he can help you with demat related issues as well.
4.INQUIRY REGARDING BROKERAGE AND OTHER ACCOUNT-HANDLING CHARGES– Before opening a demat account with any broker, it is imperative to inquire and be aware of all the charges they levy on their services. Some of the costs that may be levied are-
a.One-time account opening charges
b.The transaction fee for every buys and sells done through the broker
c.The annual maintenance fee for the account
d.Conversion Fees
e.Charges for providing certain extra services.
You can keep track of all the charges levied by your broker in a monthly statement provided by him.
5.INQUIRY REGARDING OTHER SUPPORT SERVICES – Brokers provide a lot of additional support services apart from their primary roles. Always inquire about the kind of services a broker offers and choose someone well-suited to your requirements. A comprehensive set of support services, like regularly sending Statement of Account, providing research materials, regularly sending important communications, transparent charges, dedicated and responsive customer care department ensures that you have a safe, seamless and profitable trading experience.
6.REGULAR PROVISION OF RESEARCH AND ANALYSIS MATERIAL – Investing in equity is a game of extensive research and analysis. You need to understand the market sensibilities and make investment choices based upon your income, objectives and risk affinity. A good broker will regularly provide you with various research and analysis materials, like different reports, analysis of market experts, and technical data. This helps you in making educated choices and earning good profit.
7.GOOD TRADING PLATFORM – Just like Netbanking is for your bank account; a good online trading platform is for your demat account. It brings your equity investment at your fingertips. If you trade online, you can see the entire real-time bid and ask prices. Your transaction history and statement of holdings is easily accessible to you. A good trading platform also gives regular financial data for your analysis. It creates charts and graphs of your investments, thus making trading an interactive experience for you.
Investing in equity is a highly profitable venture and thus attracts many investors. Not everyone is educated or trained in the intricate workings of the equity market and the demat account system. However, understanding your objectives and requirements and finding a service provider well suited to your need is essential. Similarly, if you follow the laid down procedures and check off the list as mentioned above, you will have an educated, safe and seamless trading experience.